DVD REVIEW
Finding Your Way: Expert Help in Navigating The Breast Cancer Journey Elesa Commerse www.foreverwhole.org 
Reviewed by Debi Buzil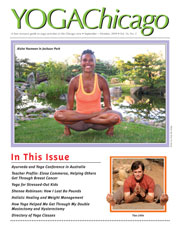 Elesa Commerse is making a difference in people's lives. I know this as fact, for she has made quite an impact upon mine. After I was diagnosed with breast cancer in 2008, Elesa gave me a copy of Finding Your Way: Expert Help in Navigating The Breast Cancer Journey. I felt that I had found a comrade traveling these uncharted waters, often frightening and unknown. I experienced the crazy twist and turns the mind and body can take. Elesa's wise work and words lessened the suffering, bringing peace to my world, which often felt out of control. Elesa is a nationally know meditation teacher and breast cancer survivor. Through her caring words and generosity of spirit, she has become my beacon of light.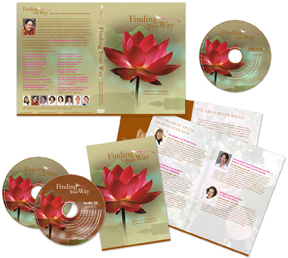 Finding Your Way is a comprehensive 2-DVD set that includes more than eight hours of programming, almost half of which focuses on hands-on practices of movement, meditation and yoga. There are nine featured presenters, including Elesa's meditation course and guided Yoga Nidra ( Yoga Nidra is on audio CD). Topics explored include the medicine of breast cancer, nutrition and lifestyle, acupuncture for symptom relief, physical therapy, lymphodema, movement and gentle yoga. Each segment features a specialist who is at the top of her game: Dr. Nora Hansen, the director of the Lynne Sage Breast Center at Northwestern Hospital; the beaming yogini, Phoenix Rising yoga therapist and holistic health nurse Sudha Carolyn Lundeen; and others, as well as truly inspiring, wonderful women who share their breast cancer journeys (in Spanish and English).
Elesa lost her mother, Evelyn Winslow, to breast cancer after an eight-year battle. Evelyn was not only a mother (a big enough job, if I may say so myself) but also a teacher and friend. Finding Your Way is dedicated to her. Elesa's grandmother, at 100 years of age, is a breast cancer survivor! In a similar vein, my "Bubbe" is 92 years old and was diagnosed and treated for breast cancer more than 50 years ago. She is vibrant and healthy, a jazz pianist and a good cook to boot. Sadly, her daughter (my Aunt Cheryl) passed from the same disease at 41 years old in the 1980s. Breast cancer is no longer a death sentence, but it is a mixed bag. Today, with early detection and better treatments, it is manageable. So here's where I ask you, dear reader, to take care of your health: do monthly self-exams, and schedule mammograms when it's appropriate. And men, please do your screenings as well!
As I experience life, there are markers that have been transformative to me: birth, loss, marriage, my children's milestones, anniversaries, retreat and travel. Now I have the cancer marker: life before cancer and life after the "little c" diagnosis. Things have changed. I know deeply that we are more than just this body. Finding Your Way solidifies the wholeness inherent in all of us. It is uplifting and realistic and acknowledges medical facts with dignity and compassion. Elesa lets us know that a diagnosis is simply that. And that all of us are "Forever Whole."
Elesa has set up an amazing way to circulate her knowledge of the cancer trip. Through the generosity of the Illinois Department of Public Health, Office of Women's Health through Ticket for the Cure Funds, The Colonel Stanley R. McNeil Foundation and private donors, thousands of copies of Finding Your Way have been given away free to under-resourced women. And for each copy sold, another copy makes its way into someone recently diagnosed with breast cancer. The power in this endeavor is stunning.
I am at the tail end of the intense part of my personal journey. Last night I lay awake, unable to sleep. Then, I hear a voice guiding me into a wellspring of calm, a transformative and restorative place of rest. I enumerate the points of my body. I practice alternate nostril breathing. This is Yoga Nidra , the last gift of the Finding Your Way series. Elesa's gentle, firm guidance lessens my anxiety. I, in turn, hope to make a difference in someone's life, to lessen their suffering and offer guidance in some small way to walk the path with grace and equanimity. Thank you, Elesa Commerse, for helping us all find our way.
This article is dedicated to yoga teacher Barbara Becker, who transitioned as these words were written. She had breast cancer.
……..
Debi Winston-Buzil leads the kirtan group Devi 2000.  She firmly believes that you've got to get up to get down, sitting around is not an option, and has blogged about her cancer journey under the same name. http://debi-youvegottogetuptogetdown.blogspot.com/
She sees herself beyond the label as a "survivor," but as one who thrives, enjoying all that life has to offer.